As we shift from one decade to another I'd like to share with you what I'm really grateful for.  Please do share your thoughts, resolutions, gratitudes, intentions … I am really grateful for: My son Alex, who's grown from a toddling 2 year old to the threshold of teenagerdom and brought us...
It had long been a dream of mine to combine my passion for travel with my love of writing.  Having been fortunate to now be realizing that dream here are 5 travel writing tips to help you get started. The Pleasure of Travel Writing 1.  Have an ANGLE. What will...
Welcome to my world ...  … a quirky place that I hope will provide inspiration, enjoyment and interesting insights.  Having spent many years living and working abroad – and with Venetian, French and Spanish ancestors, it's maybe not As the Quirky Traveller, I'll be sharing some of my adventures, suggestions for...
Load more posts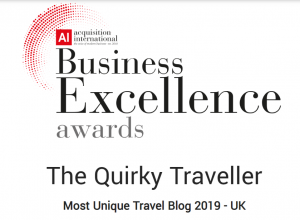 Search the site
ABOUT THE QUIRKY TRAVELLER
Hi, I'm Zoë; welcome to my quirky world…
QUIRKY TRAVEL is about seeing the world from a different angle, looking at things from all sides, finding the unusual, the interesting, the fascinating. It's about quality combined with classiness, it's about being curious about everything and wanting to know more…
Categories