Razor-sharp beak pointing towards the sky, the blue-footed booby flaps its wings in a couple of wide-angled swooshes, then returns to preening its brown and white feathers. Its bright blue feet seem to be suckered onto the rock, never slipping as it grooms and turns about, having a good wash. Beside it, flopped out as if totally exhausted, lies a young chick, all white, fluffy down and head akimbo.
I'm realising a life-long ambition to see one of these very quirky birds in their island home of the Galapagos Islands. Actually, it was initially my Mum's dream to see them. She loved birds, especially the blue-footed booby with its blue beak and feet. We were probably watching a David Attenborough documentary the first time she showed me one, laughing at its comical appearance and hilarious name. Sadly, she never got to see them in the wild, but I am remembering her as I take photos of this one with its young.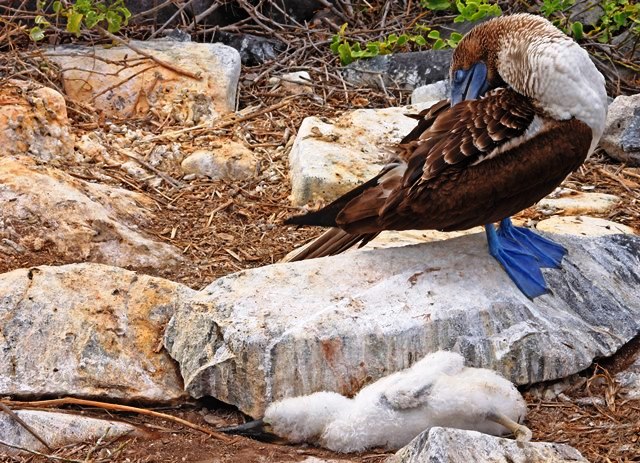 I'm in Ecuador on a trip with Metropolitan Touring, specialists in South America travel. We've already seen the historic sights of Quito, the first UNESCO World Heritage Site and spent a few days in the cloud forest at Mashpi Eco Lodge. But the highlight of this life-enhancing trip is a four day cruise on Yacht La Pinta to see the unique wildlife of the Galapagos Islands. On the first day we visited San Cristobal Island and the Cerro Colorado Tortoise Centre, where the highly-endangered giant tortoises are bred. Day 2 took us to Punta Pitt with its large colony of bachelor sea -lions; one of the main highlights was swimming with sea lions, something I'll never forget. On the third day I finally got to see the blue-footed booby and many other birds, including rare waved albatrosses, red-footed and nazca boobies and thousands of red and black marine iguanas. Our final day was spent at the Charles Darwin Research Station on Santa Cruz Island, to see the giant tortoises, reared here to be released onto the islands in a unique breeding programme.
The Blue Footed Booby and Galapagos wildlife on video
The blue-footed booby settles down on the rock beside its chick, takes a brief look at the English woman grinning at it, sticks its beak in its feathers and goes to sleep. My dream is realised; and reality is a thousand times better than the dream. Hope Mum's getting a look too …
NB: The name booby apparently comes from the Spanish word bobo ("stupid", "fool", or "clown") because the blue-footed booby is, like other seabirds, clumsy on land. They are also regarded as foolish for their apparent fearlessness of humans. (In that case all the creatures in the Galapagos Islands must be foolish becuasue none of they seem to fear humans!)
Love It? Pin It!
Want to find out more about the Galapagos Islands and Ecuador? Click links
No Place on Earth like the Galapagos Islands
Swimming with Sea Lions in the Galapagos Islands
The Culture, History and People of Quito, Ecuador
Mashpi Lodge and the Heavenly Hummingbirds of Ecuador