The stream of clowns seemed endless, each group dressed in matching zingy, sherbet-bright costumes, gradually filling up the main promenade between the exuberantly decorated floats, marching bands and rich medley of characters that made up the extravaganza that is the Tenerife Carnival. CARNIVAL – a festival marked by merrymaking and...
There is something wonderfully compelling about the statue of Eric Morecambe on the promenade overlooking Morecambe Bay in Lancashire … Virtually everyone who sees it has to pose for their photo in that dancey, head-on-one side, hopping-on-one foot stance he made so famous in the 60s, 70s and 80s. He has...
"Found it!  Oh no, maybe not …" "It's over here …" "That's not it. Look. The mountain's in the wrong place." "If I lean over the river I think I've got it …" Rydal Bridge – photo by Zoe Dawes This was the conversation ricocheting around the Cumbrian fells as...
Load more posts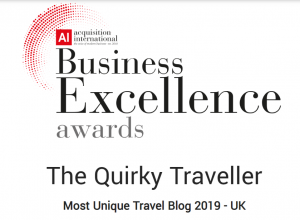 Search the site
ABOUT THE QUIRKY TRAVELLER
Hi, I'm Zoë; welcome to my quirky world…
QUIRKY TRAVEL is about seeing the world from a different angle, looking at things from all sides, finding the unusual, the interesting, the fascinating. It's about quality combined with classiness, it's about being curious about everything and wanting to know more…
Categories