Barrow-in-Furness from Walney Island When you think of Cumbria, you may well conjure up charming images of the Lake District, sheep grazing on the fells, mighty mountains and quaint villages within this beautiful Lake District World Heritage Site. You may not think of Barrow-in-Furness, an industrial power house with a...
Stepping on to Piel Island is to take a trip back in time in the most unexpected way. This tiny speck off the coast of Barrow-in-Furness in south Cumbria, is a microcosm of all that is special about Morecambe Bay. It's got ancient history, abundant bird-life, friendly people, great views...
A short while ago I got a brand new Ford Fiesta from Pye Motors in Morecambe. You may not think this is a big deal, but I have never had a new car until now and most of the cars I've had were at least a few years old when I...
Load more posts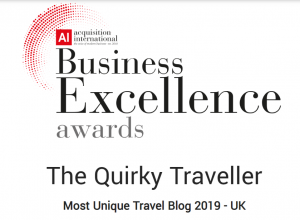 Search the site
ABOUT THE QUIRKY TRAVELLER
Hi, I'm Zoë; welcome to my quirky world…
QUIRKY TRAVEL is about seeing the world from a different angle, looking at things from all sides, finding the unusual, the interesting, the fascinating. It's about quality combined with classiness, it's about being curious about everything and wanting to know more…
Categories