Langdale Gala Fell Race The young boys were bent chest to chest, grasping each other around their backs. The referee made sure they weren't moving an inch before shouting "Wrestle." There was a blur of arms tightening and legs entwining before the lad in the red shorts was on the...
It's doubtful if any of us in the UK will experience anything like the sporting extravaganza that was the London 2012  Olympics.  As well as all the events going on in and around the capital, many people got a brief glimpse of a precious moment in time when the Olympic...
In the second of the 'Challenge Zoë' activities for The Kendal Courier I had a golf lesson at Carus Green, Kendal's new golf course. Here's the article that originally appeared in the magazine. Oh, the sweet thwack as the club hit the ball which soared 100 yards through the air towards the...
Load more posts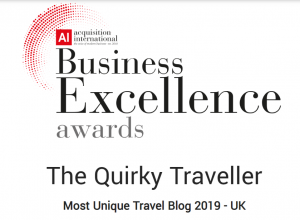 Search the site
ABOUT THE QUIRKY TRAVELLER
Hi, I'm Zoë; welcome to my quirky world…
QUIRKY TRAVEL is about seeing the world from a different angle, looking at things from all sides, finding the unusual, the interesting, the fascinating. It's about quality combined with classiness, it's about being curious about everything and wanting to know more…
Categories