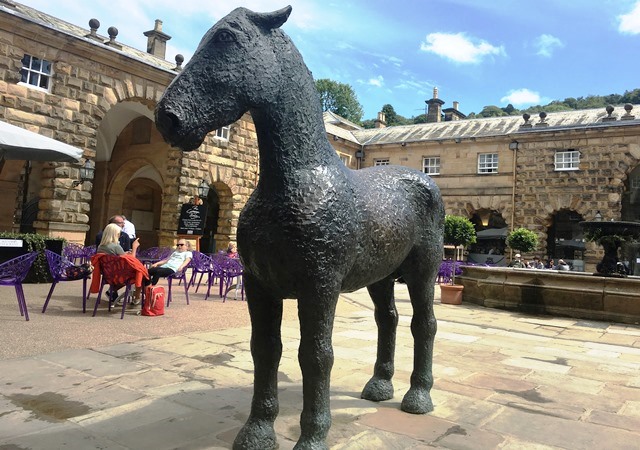 "And the winner of the 'Visit England Large Visitor Attraction 2011′ is … Chatsworth House." This must have been sweet music to all the hard-working staff at this majestic, yet so welcoming house and estate in the heart of Derbyshire.  Home to the Cavendish family, Dukes & Duchesses of Devonshire for centuries, it's an intriguing combination of sumptuous luxury, fascinating curiosities and horticultural delights .
On a recent visit I was lucky enough to be shown round by Shenagh, who's knowledge of the house, the family history and tantalising gossip enabled me to get a real grasp of just what a special place Chatsworth is.  Here are some of the quirky highlights of my visit…
The first sight of the house at the moment is a rather curious one; Chatsworth is having a face-lift and at present is covered in a huge white bandage whilst a highly-skilled crew of stonemasons and others bring her back to her 18th century glory.  Making the most of this, Scaffolding Tours are offered to get a view from in high which is quite breathtaking.  Not having the best head for heights, I did feel a bit scared as I followed guide Kay to the top, but soon overcame incipient vertigo as I took in the great views, especially overlooking the Cascade, Canal and Emperor Fountain. Kay explained that there's over 320 tons of scaffolding and the work will take over a year to complete.  All the pain and discomfort will be well-worth it when the rejuvenated face of this grand old lady is revealed once more…
Amongt the hundreds of paintings, sculptures, furniture, ceramics and vast treasures, a few unusual things leapt out and said 'Look at me – never mind that Gainsborough painting over there …'
This pram is from the mid 1700s and was pulled by a goat! Next to it was an old sleigh and just beyond was an ornate marble Grotto which was part of the  unusually modern supply of hot and cold running water installed by the 1st Duke (1640 – 1707).  I was fascinated to see a large collection of semi-precious stones and minerals collected by Georgiana, 5th Duchess of Devonshire, more famous for her gambling exploits and tangled love life, as portrayed by Keira Knightley in The Duchess. A huge foot lay on the floor – a broken remnant of an enormous statue from ancient times. Contemporary artists such a Lucien Freud, Ai Weiwei and Elisabeth Frink are juxtaposed with famous old masters like Rembrandt, Reynolds and Canova.  There is a feeling of vibrancy and modernity at Chatsworth that is sadly lacking in some historic houses today.
The State Rooms are as awe-inspiring as you would imagine them to be; Shenagh's description of the somewhat ego-driven 1st Duke clearly emphasised how great his disappointment must have been when King William of Orange and Queen Mary did not grace these exorbitantly expensive apartments with their majestic presence.  Pride of place goes to the 'Buffet' – an elaborate pyramid of silver-gilt and porcelain dishes festooned with intricately carved wreaths and swags of flowers and fruit.
Along one corridor are two modern glass cabinets exhibiting some of the present Duke and Duchess's favourite objects. It's a mini-treasure trove of eclectic pieces, including crumpled silver work by a local artist, an very ornate bejewelled eagle, an American football from a Super Bowl game and Henry VIII's rosary beads presumably from before he fell for bewitching Ann Boleyn …
After a quick look round the very tempting shop, I had Afternoon Tea in The Cavendish rooms. It was scrumptious –  sandwiches filled with delicate slivers of salmon, chunky eggs, local ham, squidgy chocolate brownie, crisp meringue and a divine lemon mousse served with my favourite Oolong tea.
The grounds are famous for good reason and were an education in horticultural brilliance. Though a lot of the formal gardens have now gone, Capability Brown's parkland and Joseph Paxton's designs are very much in evidence. I'll share some of their quirky secrets in the next Chatsworth article.
I visited Chatsworth courtesy of Visit England and stayed at the very lovely Devonshire Arms at Beeley, on the edge of the Chatsworth Estate.  If you get the chance, do visit – there is so much to see and do here and there are loads of events planned for 2011.  No doubt they will be celebrating their win for some time to come …
More about my visit here: Chatsworth House – a cornucopia of quirky curiositiesChatsworth House – a cornucopia of quirky curiosities