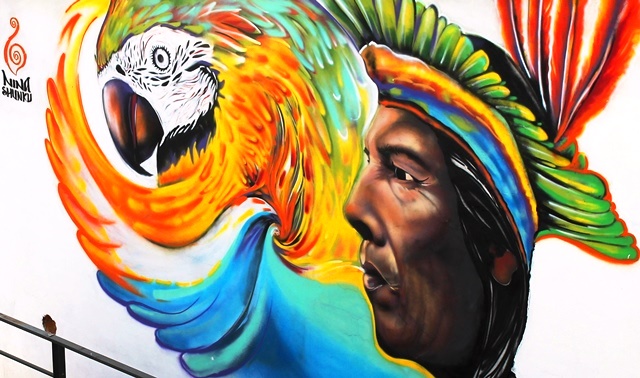 When you finally achieve a life-long ambition, there is the danger that it will not live up to expectations. Dreams become reality and illusions take on a definite shape and form that may not be one you want to see. So finally visiting Ecuador had an element of risk, having never been to South America before.
I had a vague idea of what it would be like but was worried that I might be disappointed. So many places around the world are becoming homogenised, carbon copies of some branded, bland view of an international destination. Not only did Ecuador not disappoint, it exceeded my expectations.
Equatorial Quito, founded on the ruins of ancient Inca site, is the world's highest 'official' capital city. In the Andes at 9,350 ft, its rarefied mountain air gives it a crisp, clear, literally breathtaking appeal. It was the very first UNESCO World Cultural Heritage Site, designated in 1978, and its numerous monasteries,  convents, churches and shrines are testimony to Quito's rich and often tumultuous religious history.
My first proper view of the city was on Sunday morning, having arrived in darkness the previous night. From my hotel bedroom in luxurious Casa Gangotena, I saw a huge square with a splendid church on the left hand side, a built-up hillside, people milling about and children chasing pigeons. This was the Plaza San Francisco; the beautiful 16th c church after which the city was originally named, is also its oldest. You can see this scene for yourself by clicking the 'watch' button.

The Spanish influence was immediately clear in this part of the city. Old Quito is a labyrinth of narrow streets, impressive municipal buildings and attractive squares. However, it was the people who fascinated me and gave this vibrant, colourful place its joyful, welcoming character.
I was given a guided tour of the Quito with Metropolitan Touring with Gonzalo and Dom, who shared their detailed knowledge and places to see with humour and insight. Being Sunday the locals were out in force, and the sound of laughter mingled with church bells and street vendors shouting out to attract buyers.
After a bit of haggling, I bought a colourfully quirky painting made by this woman, who lives up in the mountains. (My painting, on the far left, has a llama, a few villagers out for a walk, a volcano and a condor flying overhead – Ecuador in miniature!)
This artist was painting one of those kaleidoscopic gems, using not only brushes but his fingers to spread the paints over the wooden board. Like every city in the world, street performers have taken over. There was a trumpet player tootling out some funky jazz, a silver giant moving whenever anyone put a few coins in his hat and in the Main Square, break dancers and acrobats delighted the crowds with their twirling antics.
The Government Palace fronts onto this square and is guarded by soldiers in red and blue uniforms, looking like characters from a fairy story. Their pikes are made from what looks like bamboo with a spike on the end and the Ecuador flag co-ordinating nicely with their outfits.
En route to Quito Market on the 'Live Quito Like a Local' tour we stopped off a tiny shop open to the street, where a wiry man was swirling a huge metal bowl around. He spoke no English, but our local guide explained he was making sweets in a traditional manner.
As the midday sun heated up the pavement we walked higher up to the Municipal Market, a place I'd never have gone to had it not been for our guide. From the outside it looks just what it is, a place of trade for the people who live and work in this city, not some fancy 'tourist market' tarted up with 'artisan stalls' and expensive knick-knacks.
Herbalist Rosa Mercedes demonstrated how 'lympia' works, using bunches of herbs and greens to cleanse the body of impurities and sickness.
Each person I met reinforced what a vibrant culture this city has and how it is managing its journey into the 21st century whilst retaining some of its quirky allure and ancient traditions.
I travelled to Ecuador with LAN Airlines and explored a little of the area, including Quito, the Andean cloudforest at Mashpi Lodge and wonderful Galapagos Islands with Metropolitan Touring. They provided a unique and fascinating view of this beautiful country.