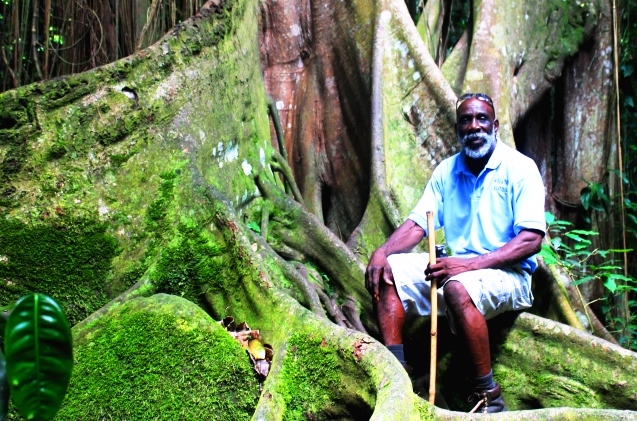 Ah, there it is … at last I catch the scent of the place.  Peppery, leafy, smoky, fresh, salty, sweet, tangy – yes, tangy and definitely exotic to someone from the north of England.  I am standing on the edge of lush rainforest beside a beautifully twisted, gnarled tree with fronded leaves and vibrant scarlet flowers.  The Flamboyant Tree (or Royal Poinciana), national emblem of St Kitts, tiny island in the West Indies, gives an exuberant welcome on my first visit to the Caribbean.
The rainforest is part of the Wingfield Estate, owned by Maurice Widdowson, originally from Lancaster.  There's a unique industrial heritage open-air museum being excavated on land that was used to produce tobacco, cotton, sugar and rum.  In the beautiful old plantation house, Romney Manor, is Caribelle Batik, where we learnt how to make batik.
This walk is a sensory delight.  Zarina McCulloch, Chrissie Walker and I are led by O'Neil Mulraine, local guide and enthusiastic advocate of St Kitts rainforest.
Green velvet monkeys screech high up in the canopy.  They peer down, waiting for us to disappear so they can return to scrumping the ripening mangoes hanging temptingly from heavy branches.  The Wingfield River trickles over age-smooth rocks, pebbles and boulders and tiny fish dart from sun to shade over fallen leaves littering the river bed.
Burnt orange butterflies flitter about with gay abandon and a hovering humming bird aims for a direct hit into a deep purple flower. Ahead strides O'Neil, enthusing over the glories of this natural paradise.  Every so often he stops to tell a story about the track on which we are walking or use his stick to point out a leaf that has healing properties. O'Neil has created his own path through the undergrowth and knows every inch of the way.  He shows us a little plant that is rainforest Viagra and another that makes healthy bush tea.
This area is now a national park and locals are slowly discovering the joys of a walk in the rainforest. Soon we are scrambling over rocks to the other side of the river to look at the gorge wall that has been carved out of the massive hillside. Standing in the shade of the red rocks, warbling birdsong drifts through the dense foliage; unfamiliar and hauntingly lovely.  An imposing dam and bridge are built over the water.  Apparently it was made by slaves in the 18th century to control the flow for the water mill on the Wingfield Sugar Plantation.
We're warned to avoid the jaggy bark studded with
vicious looking spikes.  O'Neil tells us it's the Kapok tree (Ceiba Pentandra), which grows to an enormous height and produces long, strong fibres that have been used for hundreds of years to fill jackets, mattresses, pillows, dolls and other household items.
The buttress roots of these trees can become outdoor works of art, as we discover further on into the forest.  A massive root system ribbons organically from tree to river, decorated with shadows and sunlight.  Our guide tells us it's an ideal place to sit and reflect.  Nature at her most eloquent and tranquil …
Suddenly we hear a scream from above.  We peer into the sky, shielding our eyes from the glare of the sun – and see a distant figure zooming over the treetops squealing with delight.  It's the Sky Safari – and the day before we too had been flying high on the zipwire.  Without doubt it's  the most adventurous way to see St Kitts rainforest …
As we start to make our way back we find enormous leaves littering the ground – green on one side and white on the other. O'Neil says something about it turning white when rain's due, but as it rains almost every day at this time of year, not sure if I have heard right. Whatever the reason, Chrissie picks one up, places it on a rock, we take photos and then I use it as a fan. The late morning temperature is increasing, humidity is rising and the Caribbean heat is starting to make itself felt.
And so we finally leave this peaceful haven, one of the world's very few 'growing rainforests' and a place where nature is permitted to show her ability to not only look gorgeous but also provide mankind with invaluable natural wealth. O'Neil gave us a brief glimpse of St Kitts rainforest in all her glory that I am sure none of us will forget.
Wingfield Estate St Kitts – a colourfully lush Caribbean delight
I stayed at the luxurious St Kitts Marriott Resort Hotel and was hosted by St Kitts Tourism.  Special thanks to Zarina McCulloch for organising such a fascinating introduction to the delights of St Kitts, a truly charming Caribbean island.
Update November 2014
I was absolutely delighted and genuinely surprised to win the Caribbean Tourism Award for 'Best Blog Feature 2014' for this article. The judges said, "I love that it ['Discover the natural treasures of St Kitts rainforest'] focuses on something different.  Zoe's really looked at something a bit different. Not many people think of rain-forests when you mention the Caribbean to them and there was just loads in it I wasn't aware of and I think that is what really makes a great blog post."