The heavenly scent of deep pink roses weaves around me every time I pass the front gate. In the summer months, these small, compact blooms scent the air in a way no other flower can. My mother absolutely loved these beautiful flowers, growing many different varieties and spending hours pruning and trying to eliminate the dreaded black fly. One Mother's Day, we gave her a delicate water-colour of a Bourbon Rose – Commandant Beaurepaire – which now hangs in my lounge. Bourbon roses originated on the Île Bourbon (now called Réunion) off the coast of Madagascar in the Indian Ocean.
I must admit to not really liking roses for many years. My favourite flower is the tulip, which I saw in great abundance at Keukenhof Gardens in Holland. However, I have now succumbed to the charms of roses, especially the older, scented varieties.  Roses have been grown in England for centuries. Our climate is perfect for these scented beauties. The Juliet Rose, by famous British rose breeder David Austin, took a total 15 years to cultivate and apparently sold for an incredible $15.8 million (c. £10 million). Luckily we don't have to spend that much to enjoy them and our gardens are testimony to our love of the rose. Here are some facts, poems and lovely photos in praise of these gorgeous flowers.
The Rose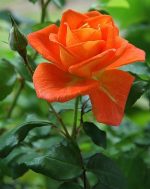 Common name Rose
Latin name Rosa
Group Shrubs, climbers, ramblers and groundcover plants
Flowering time Summer and autumn
Planting time Late autumn to early spring
Height and spread 30cm-9m (1ft-30ft) height and spread
Aspect There are roses for sun and shade
Hardiness Mostly fully hardy, but some are only frost hardy
From The Royal Horticultural Society
The Language of Roses
We all know that the red rose means I love you but did you know that red and yellow roses together say Congratulations? Or that red and white indicates Unity? Here are some more meanings, taken from The Language of Roses.
RED roses show love, passion and respect. Red roses of any color say I love you. Imply unconscious beauty.
PINK roses communicate happiness, appreciation, admiration, friendship, sympathy.
LIGHT PINK denotes grace, joy, gentility and admiration.
DARK PINK roses are to signify thankfulness.
LAVENDER symbolizes love at first sight and enchantment.
WHITE roses signify spiritual love and purity, but of the soul; bridal white means happy, love. White roses can also signify secrecy, reverence, humility, innocence or charm.
YELLOW shows I care; friendship, joy, gladness or freedom.
PEACH indicates modesty.
A rose can say … by Margie Driver
A rose can say I love you and want you to be mine,
A rose can say I thank you for being so very kind,
A rose can say congratulations, whatever the occasion may be,
A rose can say I miss you and wish you were here with me,
A rose can say I'm sorry if I've hurt you in any way,
A rose can say get well soon, May God bless you today,
A rose can say I wish you happiness, and the best for you each day.
A rose can say farewel when someone goes away,
A rose can say hello, I'm thinking of you today,
There's just so many wonderful things that a rose can say,
A rose can say goodbye when a love one is laid to rest,
No matter what there is to say, a rose can say it best. 
There have been many romantic poems written about roses and love, including the most famous by Robert Burns,  A Red, Red Rose,  but this one by the inimitable Dorothy Parker, should make you smile …
One Perfect Rose by Dorothy Parker
A single flow'r he sent me, since we met.
All tenderly his messenger he chose;
Deep-hearted, pure, with scented dew still wet –
One perfect rose.
I knew the language of the floweret;
'My fragile leaves,' it said, 'his heart enclose.'
Love long has taken for his amulet
One perfect rose.
Why is it no one ever sent me yet
One perfect limousine, do you suppose?
Ah no, it's always just my luck to get
One perfect rose. 
The Tudor Rose
The red and white Tudor Rose was adopted by Henry VII as the national flower of England following on from the Wars of the Roses, 1455 to 1485.  The House of Lancaster was represented by the red rose and fought against the House of York which was represented by the white rose. The Red Rose won but in a sign of unity (see above), Henry created a flower that combined both colours.
I'll leave the last word to Ralph Waldo Emerson,
There is simply the rose; it is perfect in every moment of its existence …   
Love it? Pin it!