Rebuilt on the site of a medieval citadel, the opulent and impressive baroque Konopiste Castle (Konopiště) is in old Bavaria, now the Czech Republic, about 50km SE from Prague. Its most famous owner was Archduke Franz Ferdinand of Austria, who bought it in 1875 when he was 24 years old.  His assassination in Sarajevo in 1914 was to trigger the First World War. Looking rather like a French Chateau, it's set in a beautiful park with a large lake, lovely Rose Garden, exotic plants in hothouses and extensive Game Reserves in the more remote areas.
If you're a vegetarian or have a very strong objection to hunting, you may want to admire Konopiste Castle from outside.  Staring down from virtually every inside wall of this beautiful building are the heads of just about every animal ever shot by the Archduke, totalling almost 300,000.   The guide assures you that he was a great conservationist too, but it's rather difficult to get that side of his character with these trophies all around.  However, I would strongly urge you to take the guided tour of the Konopiste Castle, as it is truly fascinating.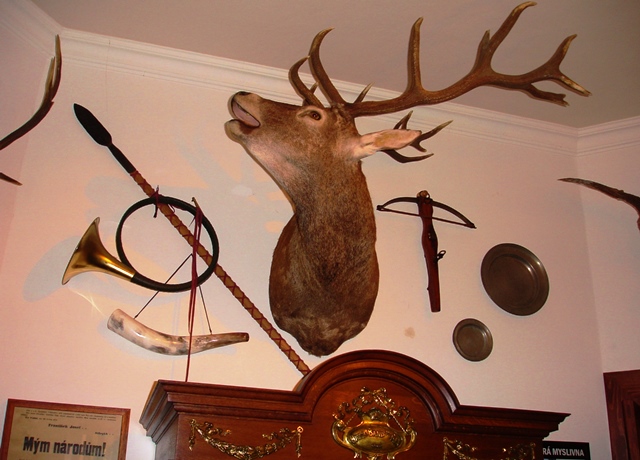 As well as the Hunting Corridor, there are a number of official and social rooms where important guests were entertained and slept in formal state.  The real highlight of the castle is on the second floor.  The Este Armoury is one of the largest and most valuable collections of weapons in the world, including beautiful Italian pistols and rifles, ornate suits of armour for both horse and rider used in jousting tournaments, with rare linens and other many other intriguing artefacts  collection.
The private chambers of the Archduke and his wife Sofia, including sitting room, dining room and bedrooms are richly furnished with an air of faded elegance.  Photos of the family have a real poignancy when the fate of the couple is known by the visitor.  In addition, there is a lovely chapel, still used on special occasions, with a highly decorated vaulted ceiling, some old stained glass and a somewhat incongruous organ hidden at the back.  The Archduke's Game Room and Shooting Gallery (not included in the tour when I visited) must have been in constant use during his occupancy, when he wasn't off in India, Africa or some other far-flung hunting ground.
Italian Renaissance sculptures are scattered throughout Konopiste Castle gardens, including a circle of maidens dancing around an urn and a big pond with what appears to a dragon's head ready to spout water not fire. There was also a rather forlorn black bear prowling around a tatty enclosure; in the past it would have been fair game for the hunters as they roamed wild in the surrounding area till the last century.
In front of the castle is a sculpture of a young man armed with a hunting rifle and two dogs straining at the leash.  It's full of vigour and seems to embody the spirit of this fascinating castle.
After all that history and opulence, you must call in to nearby Stara Myslivna Restaurant (unless you're the aforementioned vegetarian, in which case you might want to eat at the Castle Restaurant.)  Not only is this place a carnivore's delight, it's also where all the hunting trophies and related paraphernalia that wouldn't fit in to the castle, are on display.  Designed in the style of the castle interiors at the time of Franz Ferdinand, it even has a gloriously OTT chandelier made of antlers.
The menu features a very wide selection of game dishes with great names such as the Archduke's Roasted Wild Game Sausage, the Empress Elisabeth's Rabbit in Cream Sauce with Bread Dumplings and Franz Joseph's Roasted Wild Boar with Old Bohemian Red Sauerkraut.  And, if you're really lucky, you might get the table beneath the bear skin …
I visited Konopiste Castle on a tour organised with Czech Tourism. You can read about my stay in Prague here.