The thunder woke me up, clattering against the window as the noise boomed around the nearby mountains.  For a few moments I'd no idea where I was – then remembered it was Majorca, the Pollensa Park Hotel and there was rain hammering to get in. As I drifted off back...
"It's amazing to be standing here in this place where  such great explorers as Livingstone and Shackleton stood before."  Benedict Allen, a quirky traveller if ever there was, opened this year's  inspiring Travellers' & Photographers'  Tales Festival last weekend at the Royal Geographical Society in London. He was so funny...
Hi, I'm Zoë Dawes; welcome to my quirky world …  "The real voyage of discovery consists not in seeking new landscapes but in having new eyes." Marcel Proust The Quirky Traveller Blog is a place to discover diverse articles on interesting places to see and unusual things to do in the UK...
Load more posts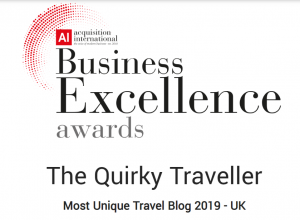 Search the site
ABOUT THE QUIRKY TRAVELLER
Hi, I'm Zoë; welcome to my quirky world…
QUIRKY TRAVEL is about seeing the world from a different angle, looking at things from all sides, finding the unusual, the interesting, the fascinating. It's about quality combined with classiness, it's about being curious about everything and wanting to know more…
Categories