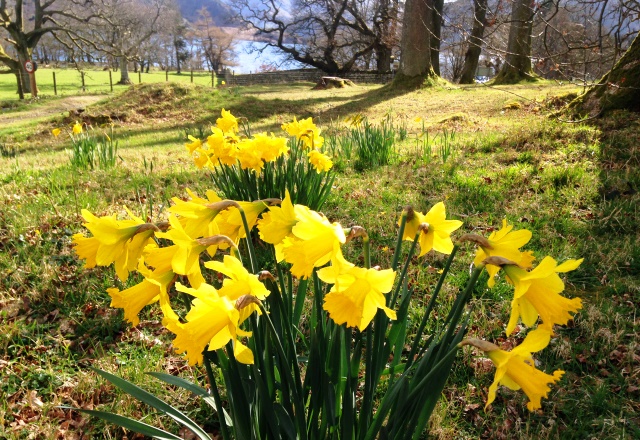 "Oh, aren't they tiny!"  This is a common response from anyone seeing the native, and oh so famous, Lakeland daffodil. Unlike the large and sturdy garden daffodil, our local one is a delicate wee flower, springing up in bunches all over Cumbria at this time of year.  (Well, to be honest, usually a tad earlier than this, but we have had such a cold winter everything's rather delayed.) The ones Wordsworth and his sister Dorothy wrote about were the shores of Ullswater. To find out more about this area visit The Ullswater View where this picture was taken. If you go there in March or April, you may well see descendants of the originals 'fluttering and dancing in the breeze …' (Do PLEASE leave them where they are over-zealous Wordsworth enthusiasts have been see digging them up as a souvenir – Noooo!) To find out more about
Recently we went to the lovely valley of Troutbeck, not far from Ullswater and visited Town End, a lovely Cumbrian farmhouse owned by the same family for 400 years and now run by the National Trust.  My son and his friend zoomed around the house as quickly as they could finding the quirky objects, signs and pictures on the children's quiz, we went a more leisurely pace absorbing the atmosphere of centuries of rural life brought wonderfully back to life in the many artefacts, furniture and paraphernalia of a farming family.  Opposite the farm there are some very old barns where the family kept their livestock and feed.  The sun shone and the views across the valley were simply magical.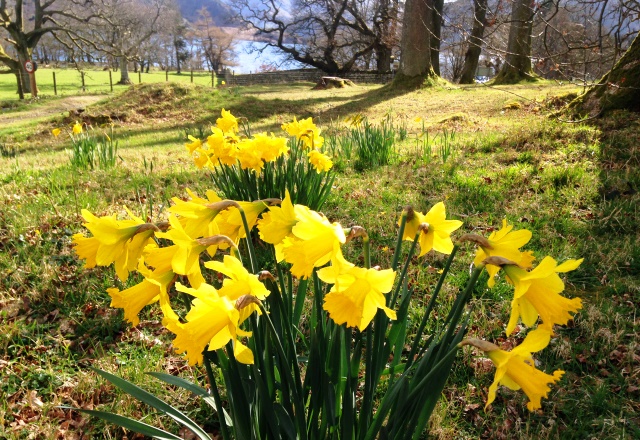 The village of Troutbeck is a Lakeland gem.  Jesus Church, built in 1736 on the site of a 15th century chapel, stands below the village on the modern road, and has splendid Pre-Raphaelite windows designed by Sir Edward Burne-Jones, and made by William Morris & Co.  The churchyard is a blaze of yellow with the vast host of daffodils that flower every springtime that would gladden Wordsworth's eye and delights modern-day visitors.
Venture further afield to Grasmere and wander along the ancient Coffin Route to Rydal and you can visit two of Wordsworth's homes.  So get out there and enjoy the glories of springtime in the Lake District – you'll discover a world of inspiration, history and beauty.