The smell of freshly-baked bread mingles with the enticing aroma of chocolate, almonds, coffee and fresh flowers. I'm sitting by the window in the Three Hares Café in the little town of Sedbergh, just 10 minutes off the M6 in Cumbria. I'm on the first stop on a day following the advice in The Extra Mile – Delicious Alternatives to Motorway Services guide book, which gives exactly what it says on the cover. Written by renowned travel authority Alastair Sawday (yes, founder of Sawdays Special Places to Stay – his biography Travelling Light is an illuminating read) and Laura Collacott, the book is crammed full of glorious places to eat, drink and discover culinary treats. They are all within a very short distance of England's busiest motorways. I'm gadding on and off the M6 with a friend to see how many places mentioned in the book we can visit in Cumbria in a few hours.
Joint owner of the Three Hares and master baker Nina makes most of the bread, pastries, cakes and other foodie delights; this bakery/café/bistro serves breakfast, lunch, afternoon tea and some evenings, dinner. The Extra Mile mentions, 'Japanese-style rabbit with curd cheese salad' and I notice on the menu many local dishes with a twist including Howgill Herdwick Hogget & Mint Curry. We stock up on huge sausage rolls, a chunk of Guinness Cake and a Rye and Caraway sourdough loaf.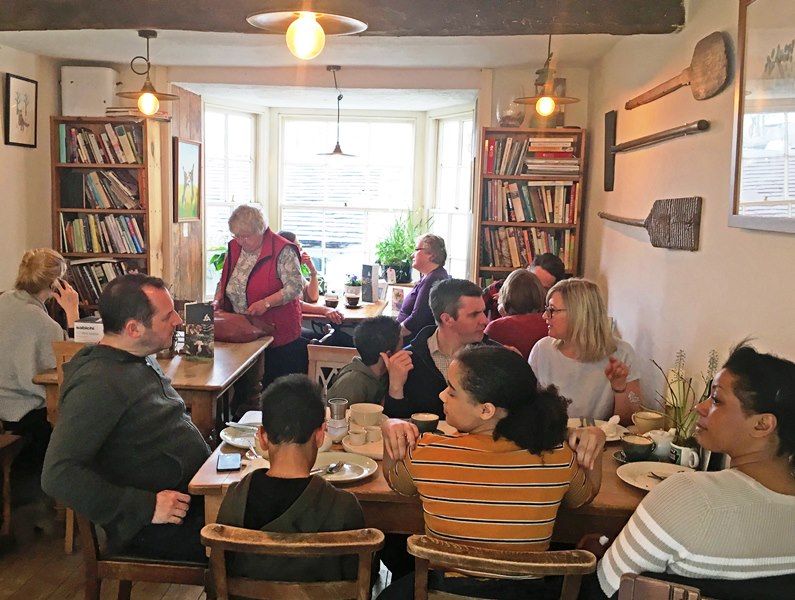 On leaving The Three Hares, we pass the wondrous quirky Mad Hatters Tea Room, round the corner on Finkle Street but we can't stop as we have to get back on the motorway and head north towards Penrith. Skirting the Lake District World Heritage site on our left and the bucolic Eden Valley on our right, we pass the gentle Howgills, hills known locally as the Sleeping Elephants; you'll see why when you visit. Getting off at J39 we head towards Lowther Castle, which has an excellent cafe serving VERY good sandwiches. I've eaten here many times and it's always good, though I prefer my eateries a tad cosier. We admire the enormous floral Easter Egg in the Courtyard. If you get a chance, have a look round the gardens – a real pleasure.
It's on through the grounds to Askham Hall Kitchen Garden Café. The Extra Mile writes, 'The food is unmatched (stews, soups, fell lamb with wild garlic risotto) … The oven outside is fired up on busy days for crispy pizzas.' It's warm and welcoming and the counter-top is a feast for all the senses. The potato, lemon and artichoke salad looks very inviting, as does the Pear and Apricot Cake. Head Gardener Colin shows me round the kitchen garden, which is planted out with fresh vegetables – broccoli, kale, pak choi, baby leaves , fruit including blueberries and 12 varieties of rhubarb, and even edible flowers.
After lunch, we meander round some country lanes off the beaten track in Cumbria, heading for a favourite pub of mine, the Yanwath Gate Inn, just off J40. Unfortunately it's shut. I don't know why, nor when it will open. I had a really good pea and ham risotto here last year. Luckily, it's not far to Penrith town centre, our next stop. The Extra Mile doesn't just include cafes, pubs, tea rooms and restaurants, but also farm shops, micro-breweries, delis and artisan producers. J& J Graham has stood in Penrith Market Square for aeons. Established in 1793 to sell farm supplies, he current business dates back to 1880. Now it's not just a family grocers but, '… a treasure chest of Cumbrian delicacies … local gingerbread and chutneys, sticky toffee puddings, own-blend teas and chilli sauces, all sourced from the Eden Valley.' They also have an excellent range of breads, cheeses, meats, alcoholic and non-drinks, biscuits ………. plus a cabinet crammed with a massive range of very tasty-looking pies and pasties.
For our final stop we head back south to the George and Dragon, just 5 minutes off J40 on the A6. A cross between a country pub and an elegant hotel, it feels luxuriously homely. There are comfortable armchairs, sofas and tables, walls decorated with charming pictures, books and paintings and its many awards denote a popularity and quality to its food and drink. It's 5pm yet quite busy; a group of guys chat at the bar, a couple are having a snack in a cosy corner and the staff are attentive and helpful. My friend and I raise a glass of Eden Gold to The Extra Mile which has guided us to some excellent places off the M6, well worth the detour.
The Extra Mile
There are loads more foodie alternatives in Cumbria featured in the book. It's also good to see that M6 Tebay Motorway Services is included. Run by a local farming family, it shows how very good motorway services CAN be if they try. I did this trip in collaboration with the authors of The Extra Mile. All views and photos are my own. It really is an informative and entertaining guide book, perfect for anyone who travels by road but also very handy for anyone who wants to discover more wonderful foodie places just off the motorway. Keep it your car wherever you go. Get your copy of The Extra Mile here.
Love it? Pin It!