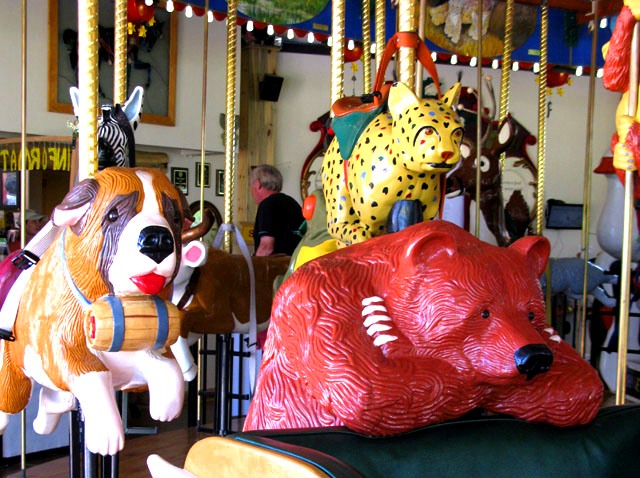 This month's World Travel Blogger, Shara Johnson, lives in Nederland and it sounds like one of the quirkiest places in America! Discover why here …
I love running across the accounts of people who have visited my small town, Nederland, Colorado. Almost without fail, their assessment of Nederland ("Ned" to the locals) includes an adjective in the family of quirky, unique, or interesting.  Located along the Peak-to-Peak Scenic Byway, tucked inside the Rocky Mountains, most visitors come looking for the outdoor activities provided by the national forests and wilderness areas … in summer, plentiful hiking, camping, fishing, bicycling; in winter, skiing and snowshoeing, and if you know where to go, you can fly down some wicked sledding runs.
Our biggest claim to fame comes from our world-renowned winter festival, Frozen Dead Guy Days. The festival was inspired by a very quirky event of the 1990s, in which an illegal immigrant living in Nederland starting freezing dead people in his homemade cryogenics facility and storing them outside in a Tuff Shed. He was eventually deported, home cryogenics were banned, two of the bodies were assigned more appropriate resting places, and one, the immigrant's grandfather, remains to this day in a fog of dry ice locked inside a Tuff Shed. Naturally, this is cause for celebration in my town – a town which let a dog run for mayor one year. The most popular events include Grandpa's Blue Ball (get it?) wherein the Ice Queen is crowned, the parade of hearses, the polar plunge, and the highlight: Coffin Races.
But not everything about us is quite so twisted. At the other end of the spectrum, one of the sweetest diversions you'll ever find is the Carousel of Happiness. Unobtrusively located at the far end of the grocery store's parking lot, each animal was envisioned, hand-carved and painted by a local man over the course of 30 years. These are not your typical carousel animals, they're whimsical and unique, and people come from all around Colorado to ride them … even I get on from time to time. At $1 per ride, it's about the best dollar you can spend.
Another random resident of Nederland is the last operational Bucyrus 50-B tracked Steam Shovel, the only survivor of the fleet which dug the Panama Canal. It's a long way from home here, imported years ago for use in the local mining industry. It's been featured on the History Channel, and during another of our town's signature festivals, Miner's Days, you can climb in and operate the levers and blow the whistle. If you care to test your strength and speed at such tasks as shoveling dirt into a mining cart, hand drilling into rock, or wood chopping, Miner's Days is the festival for you.
From moose getting trapped in the skateboard park (a sad incident) to schoolchildren being banned from recess while the mountain lions finish eating the deer kill on the soccer field; a microbrewery where your dog can come inside and drink with you (Very Nice Brewery); spectacular 4th of July fireworks over the reservoir; winter winds that deposit Christmas trees, beanbags and your own chimney in your yard; springtime fields of blue columbines (the state flower); the Nedfest music festival sporting well-known national acts; and a healthy dose of colorful local characters, there is always something fun, different and quirky to be experienced in my beautiful little town of Nederland.
 Shara Johnson is a proud resident of Nederland and runs the Cozy and Quiet B&B Studio through Airbnb, located in the very house in which the animals of the Carousel of Happiness were carved. You can follow her adventures traveling abroad at SKJtravel.net, friend her on Facebook and follow on Twitter @SKJtraveler.