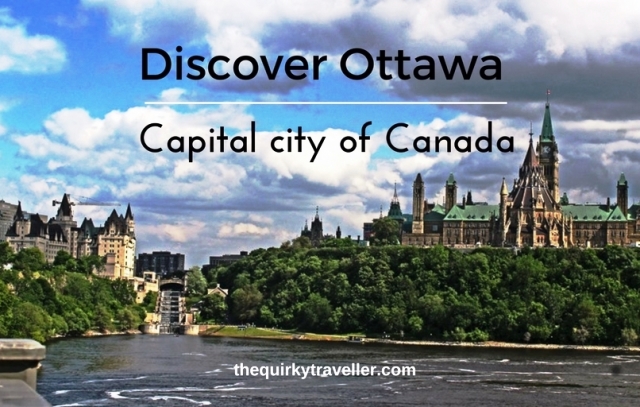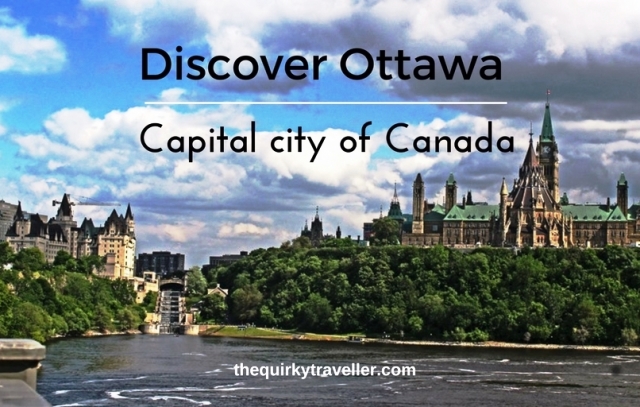 Haunting sounds evocative of another continent drifted around the busy streets, bringing a touch of the Orient to Canada's capital city.  Strumming a curious-looking stringed instrument, the woman in the Japanese kimono seemed oblivious to the people scurrying past. She sums up Ottawa; a colourful mash-up of diverse sights and sounds in a historic setting.
I was here for a week, part of a group of 14 UK Travel Bloggers spread out across the country, to celebrate Canada's 150th birthday. Staying at the uber-cool Andaz Ottawa Byward Market put me slap bang in the heart of the city's bodacious beating heart. On the evening of my arrival, I'd seen dozens of cool 'hipsters' ascending to the hotel roof bar to enjoy a Saturday night of cocktails and chat with one of the best views of the city spread out in front of them. Fortunately I had a very similar view from my bedroom. Dominating the skyline, the Parliament Building is the democratic symbol of this relatively young and very exciting country.
On my first day out, Jantine Van Kregten, Director of Communication for Ottawa Tourism, took me out to Ottawa's Farmer's Market at Lansdowne Park. We stopped on the way to see the locks on the bridge  over the famous Rideau Canal, reminders of love and the bane of city officials as they weigh down the bridges around the world.
Lansdowne Farmers' Market is a part of the Savour Ottawa initiative that bring together local farmers and producers with chefs and consumers. 'Savour Ottawa works to develop and promote Ottawa and area as a premier, year-round culinary destination, with robust offerings of local culinary products and experiences for both locals and visitors.' It's everything you'd hope from a Canadian market, showcasing delicious produce, including fresh asparagus huge tomatoes, crispy apples, luscious rhubarb, early strawberries, artisan bread and cheeses, meat, pies, honey, spicy mixes and, of course, maple syrup in various guises.
The Aberdeen Pavilion, built in 1898, is now a huge exhibition space. There was a Latin American festival going on in another hall, with salsa dancing lessons and lots of laughter.
Watch video – Lansdowne Farmers' Market (spot the Huskies)
The following day I went on a boat trip on the Rideau Canal. In spite of torrential rain, I thoroughly enjoyed drifting along the canal, learning about its history from our guide, who injected plenty of humour into his informative spiel.
The Rideau Canal freezes over in winter; people skate to work as well as enjoy it for recreation. In the summer pleasure boats cruise its tranquil waters. We motored alongside the University of Ottawa and luxurious mansions waved to people out jogging and dog-walking, passed by Lansdowne Park and turned round in the large basin of Dow's Lake. I sat next to an American couple who had come to Ottawa specifically to ride on the Rideau Canal; it's a well-known World Heritage site. They were staying at the Chateau Laurier, overlooking the canal and were clearly very impressed with the city. "A friend recommended we visit and we're so glad we did. There's so much more to see and do than we'd expected."
Being the capital of Canada, Ottawa has a world-class collection of museums and art galleries. You can read about the Canadian Museum of History and the National Gallery of Canada here. One of my favourites was the Bytown Museum. It's housed in The Commissariat, the oldest stone building in the city, beside the lower locks of the Canal. An eclectic mix of exhibits tells the history of Ottawa and how it became the capital of Canada. There's a copy of Queen Victoria's Proclamation for uniting the Provinces of Canada, Nova Scotia and New Brunswick, into one Dominion under the name of Canada. It's dated the 22nd of May, 1867 . Bytown, the original name for Ottawa, was clearly a bit of a 'wild-west town' in its early days, notorious for the riotous behaviour of the European settlers who came for the lumber trade.
An imposing bust of Lieutenant Colonel John By lords it over the gallery. In the British Royal Engineers, he was,  'instrumental in the construction of the canal. The name "Bytown" came about, somewhat as a "jocular reference" during a small dinner party of some officers, and it appears on official correspondence dated 1828.' [Wikipedia]
I spent a lot of time exploring Byward Market neighbourhood, a popular hub for bars and restaurants, excellent foodie shops and cafes, performance artists and people watchers. I met up with Canadian travel blogger Cindy Baker (check out her blog My Travel Bliss which has a lot more on Ottawa), who showed me round. I especially loved the indoor market, originally built to provide supplies for the lumber trade. Suspended over the stalls is very quirky sculpture, McClintock's Dream by Hungarian artist Victor Tolgesy. A lumberjack in a plaid shirt lies below a giant cloud, dreaming of all the thing he will buy from the market when he gets back home to Ottawa. Hanging over the cloud, vendors tempt him with strings of sausages, poultry, garlic cloves, apples and much more.
During my week in Ottawa I did so many more things, including a C'est Bon foodie tour of hipster Hintonberg and a bus tour of the city, ate out in some of the best restaurants in town including Play, Food and Wine, listened in on politicians exchanging gossip and mingled with the beautiful people at the opening of a new bar. I admired street art in lively neighbourhoods, watched the Changing of the Guard at the War Memorial, had a guided tour of the Parliament Building and watched the sun go down over the Rideau River. Keep an eye out for my article on the food and drink scene.
If you're going to Canada, make a date with Ottawa; you'll be seduced by its friendly charm, low-key sophistication, impressive architecture and exuberant joie de vivre.
Visit Ottawa
Visit Canada Keep Exploring to discover more about where to go and what to do in Ottawa. Return flights from Gatwick to Toronto from £346 (October 2017) and £349 (May 2018) per person with Air Transat. Canadian Affair offers an 8-day package tour Ontario Taster Holiday which includes 2 nights in Ottawa.
Sponsor Post: Many thanks to Destination Canada, Air Transat and Ottawa Tourism for sponsoring my visit to Canada. It was a pleasure to explore more of Canada, a country of unforgettable experiences.
More things to do in and around Ottawa and Ontario
Ottawa: 8 fun ways to celebrate #Canada150 in the capital city
Take a Food and Drink Tour in a funky part of Ottawa
Step back to the 1800s in Upper Canada Village, Ontario
Explore Diefenbunker, Canada's Cold War Museum, Ontario
The 'Maple Syrup Experience' at Fulton's Pancake House & Sugar Bush
See more of Canada here
Top 10 Memorable Moments in Canada
A Digital Detox with the Grizzly Bears of British Columbia
Top tips for a motorhome trip across Canada
Love it? Pin It!