In the next of the World Travel Blogger series, writer and sweetie lover Emily Johnson shares five of her favourite places in Europe.
5 beautiful places in Europe
Europe is renowned for its unparalleled beauty and favourite tourist destinations include Paris, London, Amsterdam, Rome. Many famous places in Europe have their fair share of visitors every year and it's difficult to choose. There are some hidden gems that lie amidst the amazing Europe? Well, here's are 5 places you might like if you are looking to explore something different in this mesmerizing continent.
 1.  Lugano, Switzerland
Lugano is more of a commercial and financial hub of Switzerland but has been untouched by the teeming crowds that visit Europe. You can explore the parks, buildings and gardens of Lugano that is somewhat modern in its nature but gives an impression of a hidden small town in the tourist region of Ticino. It is situated by the splendid Lake Lugano and is blessed with the aura of beauty and nature.
2.  Bacharach, Germany
Located in the Rhine River Valley in Germany, Bacharach is another great treat for explorers and has small castles, intersting buildings and quaint villages to discover. It is nestled close to nature and is more like a town in a Disney movie that have castles, colorful houses and vibrant liveliness to it as Bacharach will add another great travel experience to your bucket list. The green, natural vibes of Bacharach are what make it a must-visit place when you are in Germany or travelling in Europe, this unknown gem will surely augment a lot to your trip.
3.  Santorini, Greece
This crescent-shaped island was created from a volcano in prehistoric days. There is a huge lagoon surrounding this beautiful island and Santorini has been discovered by many tourists recently. It is one of the most popular Greek islands, especially with cruise ships. However, at times it's less crowded than some streets of more famous European tourist sites. It has alluring sunsets, sizzling panoramas and beaches just blessed with tempting vistas. On Santorini, find a place away from the crowds to relax at, unwind, sip your favorite cocktail and spend a whole day admiring the gorgeous views.
4.  Svalbard, Norway
Svalbard is one of the best places to see the astonishingly beautiful Northern Lights. Its location is also interesting as Svalbard is situated halfway between Norway and North Pole. It is ideal for those looking to explore wildlife, Arctic Ocean and told mining towns. The northern lights can also tempt you to explore this wonderful gem while the overall landscape is worth a chance to give if you are wondering for some offbeat place in Europe.
5.  Lake Bled, Slovenia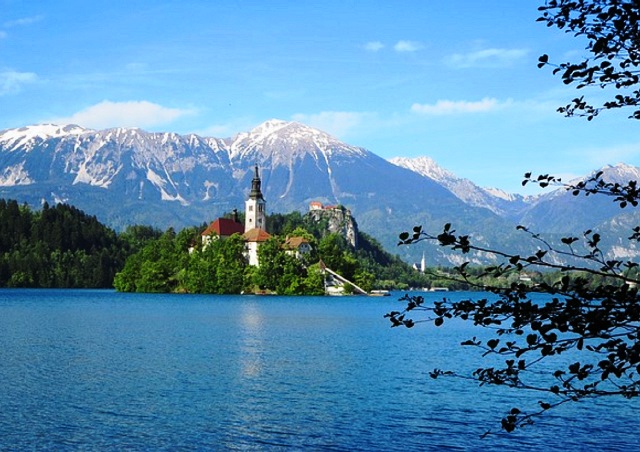 This picturesque lake in Slovenia is relatively undiscovered place in Europe. Lake Bled is a splendid emerald-green; there are the top mountains of Julian Alps, some castles to be explored and picture-perfect churches to visit. You can try adventure sports like hiking, water-sports and biking while also immersing yourself in the breezy atmosphere of this appealing, undiscovered pearl of Europe.
Emily Johnson writes about sweets on her blog engaging her audience with articles about flavored candy treats and also sharing her tips on travelling around the world for other explorers.
Love it? Pin It!